FAQs
ACCESSIBILITY
IS THE DRIVE-IN SUITABLE FOR GUESTS WITH ACCESS REQUIREMENTS?
Drive-In Movies at Edinburgh Airport are fully accessible, with accessible toilet facilities and food units on level, hard-standing areas.
Everyone that has access requirements will be placed in an area close to the accessible toilets and food units.
We understand that each guest may have different access requirements and our team will be able to provide further details or advise on best access and viewing locations if you contact them. Please get in touch on boxoffice@unique-events.co.uk to let us know.
THE EVENT
WHO IS BEHIND THE EVENT?
Unique Events
Unique Events are Scotland's leading independent events and festivals creation company, and have produced a huge range of events throughout Scotland and the UK, from sports gatherings to street parties, classical music to rock/pop festivals; an unparalleled range of indoor and outdoor, ticketed and free events. Unique specialises in large-scale outdoor public events and festivals working closely with government agencies, local authorities and enterprise companies as well as the private sector.
Unique Events have created and produced a huge portfolio of high profile events across Scotland such as Edinburgh's Hogmanay, Official Opening of the Queensferry Crossing, Edinburgh's Burns&Beyond Festival, Film in the City outdoor cinema screenings for Edinburgh International Film Festival, Illuminight at Dean Castle Country Park and in the last 3 years helped raise over £18M for the homeless charity Social Bite through the award-winning Sleep in the Park and World's Big Sleep Out events.
WHEN ARE THE SCREENINGS AND HOW MUCH ARE TICKETS?
Standard Ticket prices are between £20.00 to £35.00 (plus booking fee) per car and up to 5 passengers. Screening times may vary, so please check carefully when booking.
Arrival times for each screening will be staggered to avoid congestion with gates opening approx. 90mins before the start of each screening. The ticket buyer will receive an email with further details on their allocated time.
Standard screening schedule and arrival times:
Thursday
18:00 – vehicles arrive on-site from approx. 16:45hrs / 17:00hrs / 17:15hrs
22:00 – vehicles arrive on-site from approx. 20:45hrs / 21:00hrs / 21:15hrs
Friday
14:00 – vehicles arrive on-site from approx. 12:45hrs / 13:00hrs / 13:15hrs
18:00 – vehicles arrive on-site from approx. 16:45hrs / 17:00hrs / 17:15hrs
22:00 – vehicles arrive on-site from approx. 20:45hrs / 21:00hrs / 21:15hrs
Saturday & Sunday
10:00 & 10.30am– vehicles arrive on-site from approx. 09:00hrs / 09:15hrs / 09:30hrs
14:00 – vehicles arrive on-site from approx. 12:45hrs / 13:00hrs / 13:15hrs
18:00 – vehicles arrive on-site from approx. 16:45hrs / 17:00hrs / 17:15hrs
22:00 – vehicles arrive on-site from approx. 20:45hrs / 21:00hrs / 21:15hrs
(Variations for certain films may apply so please check screen and check-in time when booking)
ARE ALL SCREENINGS SUITABLE FOR ME/CAN I BRING MY CHILD?
As with any cinema, each screening has its own age rating, with certificates ranging from U (Universal) to Cert 18. Please check the definitions below to ensure that the screening you are booking is suitable for all guests before you book. Vehicles will be refused entry to any screenings if passengers are aged under the legal certificate of the screening.
For further details on the UK age classifications please visit the BBFC website.
If you are fortunate enough to appear young for your age, please make sure you bring appropriate photo ID for all age restricted films to avoid disappointment.
CAN I BUY FOOD AND DRINKS AT THE DRIVE-IN?
Gourmet street food, as well as soft and alcoholic beverages will be available to buy at the Edinburgh Airport Drive-In events.
WILL THE DRIVE-IN TAKE PLACE IN BAD WEATHER?
Yes! Drive-In Cinema events are designed to be enjoyed from the comfort of your own car and will take place in bad weather. Please dress in weather-appropriate clothing and feel free to bring whatever makes you warm and comfortable, blankets, cushions, duvets and hot water bottles are all permitted.
To minimise your carbon emissions, car engines will be turned off for the duration of the event. To prevent a flat battery, avoid using your interior lights, heating, or air conditioning for the full duration of the screening. You may want to turn your engine on every so often to ensure the battery doesn't go flat.
HOW WILL I HEAR THE FILM?
The soundtrack to your event will be transmitted directly to your car stereo or personal radio using a specific FM Frequency for the event (Subject to License). You control the volume in your car, but please be mindful of others and don't be the noisy neighbour.
If your car radio doesn't work or cuts out when your car engine isn't running (worth a check for new cars), you can also bring a portable FM radio to listen to.
Please note: Smart Phone Radio Apps & Digital Radios will not pick up the FM signal.
ARE THERE TOILETS OR WASHROOMS?
Event toilets, including accessible and baby-changing facilities will be available at Drive-In Movies at Edinburgh Airport and will operate with social distancing measures.
Please only leave your car if you need to use the bathroom or to access food areas, avoid leaving the car in groups, and queue at the designated 2-metre intervals for facilities.
Hand sanitising stations will be located at toilet facilities and must be used before and after accessing facilities.
CAN I OPEN MY CAR WINDOW(S)?
In the interest of your safety, please only open car windows on the right-hand side of your vehicle when needed.
If you would like to get hold of a member of our team for assistance in an emergency, please attract the attention of a nearby member of staff or at night, use your hazard lights to attract attention.
CAN I USE MY PHONE/CAMERA AT THE DRIVE-IN?
Yes, we would encourage you to take images of your family and friends enjoying your Drive-In experience and share on social media channels using the hashtag #EdinburghDriveIn however, illegal recording of any film is strictly prohibited, and our staff will ask you to delete all footage immediately and remove any recording device, which will be returned to you at the end of the screening.
CAN I BRING A PET TO THE EDINBURGH AIRPORT DRIVE-IN
With the exception of Assistance & Emotional Support Animals (ESA), unfortunately we cannot admit any pets into the event.
AM I ALLOWED TO SMOKE?
Smoking, including electronic cigarettes, is not permitted outside of your car. If you choose to smoke, please ensure that this will not affect fellow Drive-In attendees.
WHAT ARE THE PAYMENT METHODS?
All payments for food and drinks on-site must be made using contactless card payments.
CAN I ATTEND WITHOUT A CAR?
Unfortunately, at the moment we cannot accommodate guests without cars at the event, but we are working with partners to provide a future solution. For the moment, if you don't not have a car, there are car rental or car share services operate widely and you will find a service near your home if you are keen to join us.
ARRIVING, PARKING & DEPARTING
HOW DO I GET THERE?
Driving to Edinburgh Airport couldn't be easier, just 5 minutes from the M9, one of Scotland's main motorways, making it accessible from all areas of the country.
When travelling from Edinburgh, head along the A8 towards Glasgow, or if travelling from the opposite side, follow the A8 towards Edinburgh. Edinburgh Airport is clearly signposted from the A8.
Follow the signs for Edinburgh airport.
Turn right at the roundabout by the Double Tree Hilton Hotel, following the event signage to 'Plane Parking' area
Go over the tram crossing and then turn right again at the roundabout
Follow Eastfield Avenue for approx. 250yrds
The entry to Plane Parking event arena is on your right
Address:
Edinburgh Airport, Plane Parking, Eastfield Avenue, Edinburgh, EH12 9DN
HOW WILL IT WORK?
On arrival, follow event signage to the Edinburgh Airport Long-Stay Car Park, where our team will direct you to the check-in area and scan your tickets, respecting social distancing guidelines, direct you to your viewing space and provide you with event information.
After the on-screen safety briefing, sit back, relax and enjoy some in-flight entertainment, with movie quizzes, car disco and give-aways.
You will be able to purchase cinema snacks, food and drinks at the event from a designated area.
The soundtrack to your event will be transmitted directly to your car stereo or personal radio using an FM Frequency (Subject to License). You control the volume, and can then sit back, relax and let us take you away from it all through some classic movies.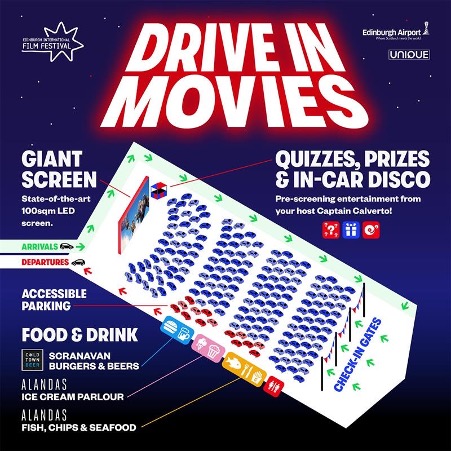 ARRIVALS & DEPARTURES
A specialist traffic management team will be on-site and all vehicles will be parked two metres apart, with clear sightlines to the entertainment in size order of vehicles, from smaller cars at the front to larger vehicles to the sides.
You will be allocated an arrival time once you have purchased a ticket for your screening. This arrival time will be up to 1hr prior to the screening at 15min intervals to avoid traffic congestion.
Audiences members are advised to stay in their vehicles whilst on-site, leaving only to use the toilet facilities or access food areas. Strict social distancing and sanitation protocol will be in place throughout the event arena.
At the end of each screening, vehicles must not move until instructed to do so by the event team. Vehicles are required to leave the event arena in an orderly fashion to avoid congestion, but please note departure from the event may take up to 15mins and we appreciate your co-operation in this process.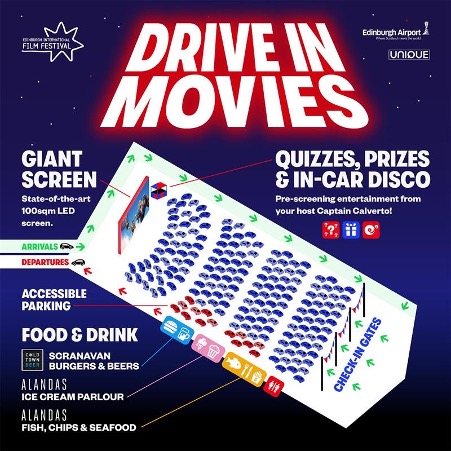 WHAT HAPPENS IF I GET THERE LATE/MISS MY ARRIVAL TIME?
After purchasing your ticket, you will be allocated an arrival time up to 1hr before the start of the film to ensure that you have time to park and settle-in before the event starts. If you arrive later than the latest arrival time (20 minutes before for your screening start time, for instance, 17:40 for a 18:00 start), you may miss the mandatory Drive-In safety briefing and will not be allowed to enter.
COVID 19 & SAFETY
WHAT ARE THE CURRENT COVID TRAVEL RESTRICTIONS?
– Current Covid Safety Level restrictions will only allow for Drive-In Cinema events to take place in a Tier 2 Safety Levels
– Following the Scottish Government update on Tuesday 17 November, we are confident that the City of Edinburgh will join both East Lothian & Midlothian on Tier 2 in the coming weeks, which will allow our Christmas screenings to take place
– Please Note: YOU MUST CHECK and adhere to Safety Level restrictions which apply to you in your region. Please check the Scottish Government website for current Regional Safety Levels and Travel Restrictions
We are deeply sorry for any inconvenience caused if you cannot travel to our event from another region, but we must adhere to Scottish Government restrictions and protect public health.
Should the Drive In Movies at Edinburgh Airport be cancelled for any reason you will receive an automatic ticket refund from the box office, but please note ticket booking fees are non-refundable from the ticket agent.
WHAT HAPPENS IF THE GOVERNMENT CHANGES GUIDELINES?
Should the Drive In Movies at Edinburgh Airport be cancelled for any reason you will receive an automatic ticket refund from the box office, but please note ticket booking fees are non-refundable from the ticket agent.
WHAT COVID-19 SAFETY MEASURES HAVE BEEN TAKEN?
The safety of our audiences and staff is our primary concern at the Drive-In Movies at Edinburgh Airport. COVID-19 safety measures will be implemented in-line with government guidelines. These include social distancing for both guests and staff, regular cleaning of all facilities, contact-free food and beverage orders. You will also be reminded of the mandatory safety measures via email and on-screen.
Please do not attend the event if you or any member of your household are experiencing symptoms of COVID-19 or have been told to self-isolate, or if you have been in contact with anyone from outside your household who is displaying symptoms. We want our events to be as safe as possible for all attending, but we need your co-operation to comply with government guidelines and health advice for the safety of yourself and others.
Social distancing measures will be in place, clearly sign-posted and enforced by staff. Please adhere to them for your own safety and the safety of others.
With the exception of trips to the bathroom and Food & Drink areas, we ask you to stay inside of your car and keep the left-side windows of your vehicle closed. If you drive a convertible, please close the roof before you enter the Drive-In site and keep it closed until after you have left.
Hand sanitising areas will be located at toilet facilities and food areas and all audience members will be required to use these prior to accessing any facilities.
Capacity in certain areas may be limited due to social distancing so please remain in your car if asked to do so.
DO I NEED TO WEAR A FACE MASK OR GLOVES?
In accordance with government guidelines, our events team will be wearing face coverings to keep them safe at work and we encourage you to follow the government's guidelines regarding PPE for public spaces to help us maintain high safety standards at the events.
If you or any member of your party feel unwell prior to your event we would ask you to not travel to attend the event.
MY CAR
HOW MANY PEOPLE ARE ALLOWED IN MY CAR?
All tickets are Standard Entry for 1 car with up to 5 passengers per car, you will be asked to confirm the vehicle size and car registration during checkout.
For the best Drive-In Movie experience we recommend a maximum of three adults or two adults with two kids. You'll be parked facing the movie and watching through your windscreen. You must watch from inside your vehicle and due to Government safety guidance attendance is limited to one extended household per vehicle (2 households are currently allowed to form an extended household group).
Tickets limited to 1 per transaction.
ARE THERE RESTRICTIONS ON THE SIZE OF MY CAR?
To keep the Drive-In safe and fun for everyone, the following vehicle restrictions apply.
The following are NOT permitted:
• Bicycles
• Motorcycles or scooters
• Convertibles without roof
• Cars with trailer attachments
• People Carriers
• Minibuses (7+ seats)
• Buses
• Caravans
• Long wheelbase vans
• HGVs